I haven't actually been working for a full 15 days now on Flocktober, only 10 days as of the time of publication of this report, but as it is the middle of the month, might as well take an inventory of what I have actually gotten around to finishing.
Completed:
-6 Large wheat fields;
-4 Small wheat fields;
-6 Small Encampments;
-3 Buildings;
-3 Explosion Markers.
-Well;
-Campsite;
-Bridge;
-Graveyard.
-2 Turnip / Potato patches.


On the block:

-2 Pegasus log-cabins
-Small Coral.
The vast majority of my terrain pieces are nearing completion, but have no fear (I say to myself) with some luck the rest of my Pegasus Hobbies buildings might arrive soonish. I was planning on finishing off the log cabins, but I'm actually starting to run out of supplies, notably black primer spray paint, wood filler, PVC glue and wood glue.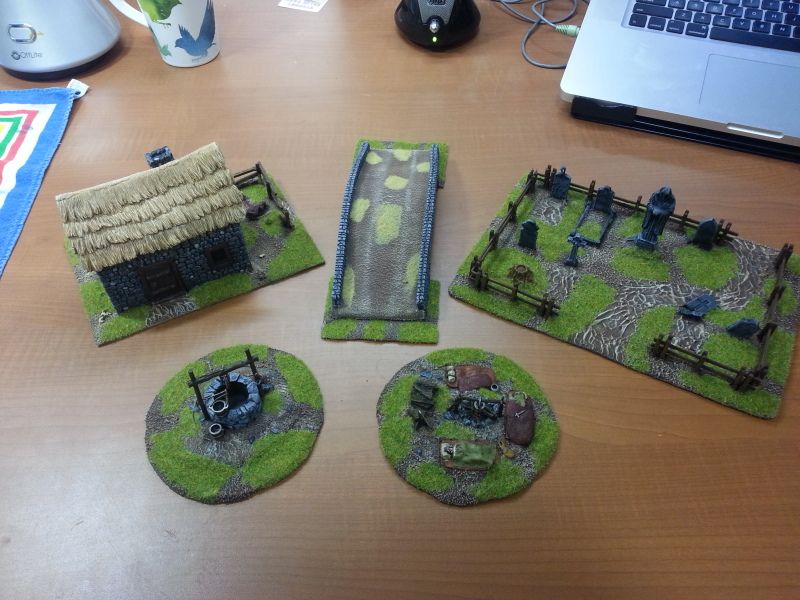 I've had these terrain pieces since HistoriCon, but it took me until mid October to finally get around to finishing them off.
The state of these buildings haven't exactly evolved to much since the last picture. I managed to wring out just enough primer to do half of the first building... crap.
In Maurice, there is the possibility to put down "Rough Terrain" markers in front of your opponents units, causing chaos and moral points. There is a wealth of stones outside of my building, so I decided to grab some on the way back from class. I made sure to sterilize them with both a very warm soapy bath and a soaking in rubbing alcohol.