I've taken a couple days off working on terrain and had to resist starting painting a single Malifaux model (the only other major project I have on the table for this year). I somewhat failed in resisting to paint the model as I primed, pre-shaded in white and then painted the base coat for the skin (which makes up about 60% of the model), but put it away while I get back to the goal of this month. I might have also started transferring my GW paint collection over to dropper bottles, but that is a post for another time.
Anyway, I finished up the first of many, many, many projected buildings. I wanted to finished this one and put it up on my blog first as it was a gift from Dave Hoyt. From my understanding, he had owned this building for a very long time, but has never had any sort of use for it, having glued it onto an MDF base, but never based or flocked.
The building in question is from Pegasus Hobbies (where incidentally all of my buildings, planned or owned come from) and is technically in 1/72nd scale. I find that it fits really well with my 28mm Crusader / Front Rank figures as I have grown much fonder of my buildings having a smaller footprint. I own two of Pegasus Hobbies' "28mm" Stone cottages and will probably end up using them for when I'm playing Maurice and only want a small amount of buildings.
I did not even bother to repaint the "Ukrainian" building as the standard one is quite good.
I was thinking of adding something to the back section of the MDF base, but decided against it as I will just place a tree instead.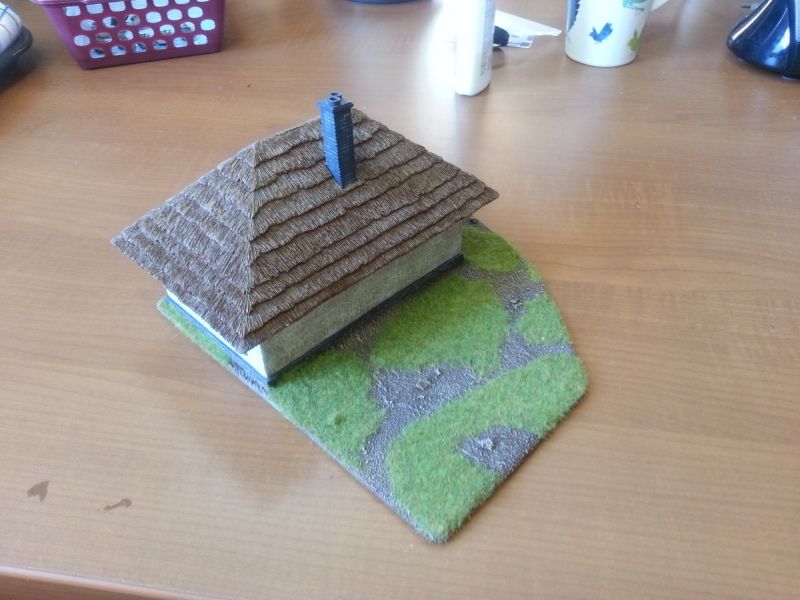 Yep, not a huge amount of say other then thanks a huge amount Dave for the gift.
The first part of my large building order I made through my FLGS arrived last Friday and I set to work on them. Again they are Pegasus Hobbies stuff from their 1/72 scale range. I'm quite happy with the buildings themselves, but unfortunately the roofs suck. In the two building box set, one comes with a wood-placked roof while the other has a very very cheap looking thatch job. But honestly, for 12$ Canadian, I cannot really complain. For 6$ each I am more then happy with doing a bit of graft and conversions to get them the way I want.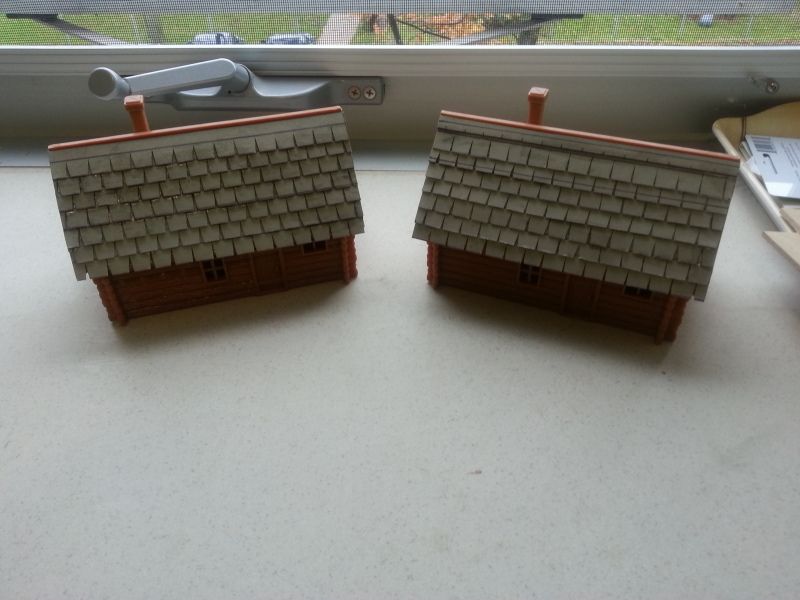 As you can see I used thin cardboard to make shingles and glued them onto the actual plastic roof provided. Does the job quite well. I am dreading the amount of work that I will have to do to bring the remaining 11 buildings I ordered up to par.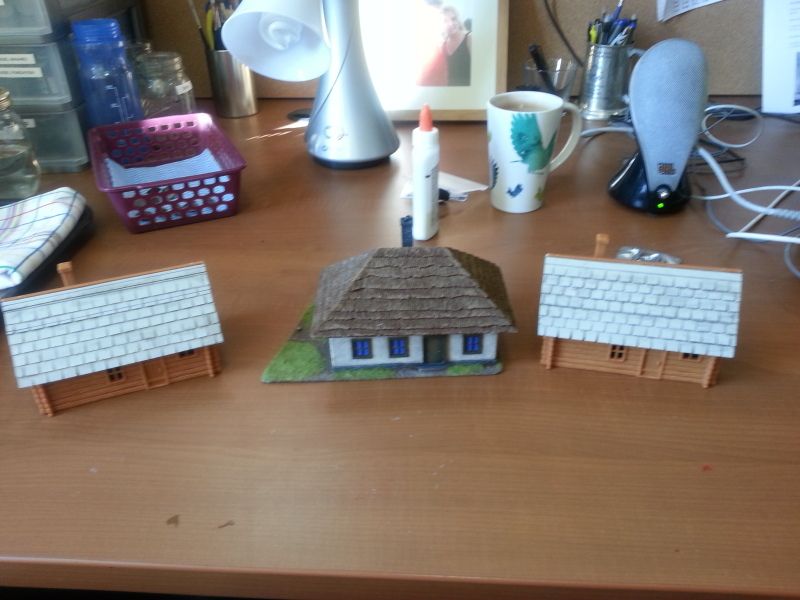 As you can see, these buildings work perfectly well with the other 1/72nd stuff by Pegasus. I left the roofs removable on the log cabins, perfect for skirmish gaming. The "Ukrainian" building in my books will be owned by a wealthier member of the town I am working towards.
I may end up ordering the second varian of the "Ukrainian" buildings for my ImagiNation project as well as one or two of the 1/72nd Russia

n Izba buildings. Possibly converting one of them to be some sort of Church if I am unable to source one from Hovels.